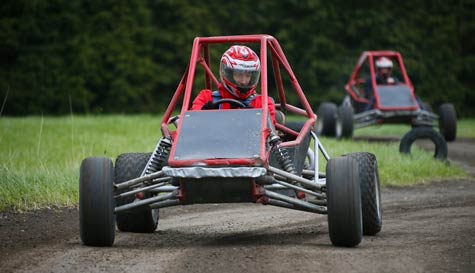 The era of stag do's consisting purely of a few pints and cling-filming the groom-to-be to a lamppost are long gone. Modern stags are looking for bigger challenges and epic stag adventure and our Oxford stag party multi-activity site delivers adrenaline-fuelled fun and great competitive action.

You'll get a choice of 8 of the most legendary stag experiences. Maybe you'll find your inner Viking as you perfect the art of axe throwing? Or how about hovercrafts with 600cc powered engines? Perhaps you'll get axle deep in victory on the rage buggies.

This really is competitive stag party action at its finest and our Oxford stag party multi-activity site offers something for all the lads. Petrolheads can pur like well-oiled quad bikes, sporting stags will become very merry men when let loose on the exploding archery or you can set your own stag party Call of Duty on the Paintball battleground.

One thing you can be sure of... it's going to get messy!

You can select 1, 2 or 3 of these activities:
Hover Crafts - Floating boy racers. Hard to control and utterly hilarious as you watch the groom drifting helplessly sideways. But once you master the art its superb fun.
Off Road Rage Buggies - Just about the most fun you can have with a crash helmet on!
Quad Biking - All-terrain monsters that will chew up any ground you point them at.
Blindfold 4x4 Driving - A serious challenge that requires total driving precision.
Clay Pigeon Shooting - The stag party's very own sporting big bang theory.
Laser Clay Pigeon Shooting - Go ahead stag, hit my clay!
Crossbow - Take on a medieval shoot-off with the brilliant pieces of historical weaponry.
Axe Throwing - Brutal stag competition and perhaps vital training if ever there's a zombie apocalypse.
Paintball - Let loose the dogs of war and give the groom a Dulux makeover.