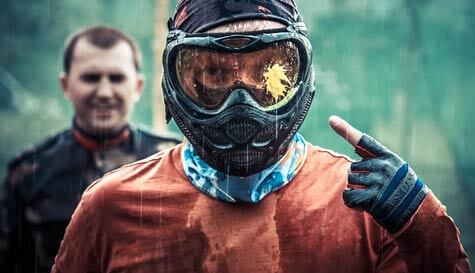 Paintball is without doubt one of the all time great stag activities. Its fast, furious, competitive and you get to shoot your mates in the gentleman vegetables with a loaded weapon. This is a chance to set your own stag party Call of Duty to see just how good the lads are away from the screen when the paint starts flying. "Lock 'n' load guys."

You'll be given state-of-the-art weaponry, goggles, overalls and those all important paintballs (or as we like to call them "groom-seeking-missiles") ready to take to the field, take down your foes and give the groom a complete Dulux makeover. There are a number of scenarios to choose from and before each battle begins you'll have to plan your tactics with your crack squad. Smoke grenades can also be purchased on site.

To make things even more "sporting" we'd suggest bringing along a suitable fancy dress costume to make sure the groom doesn't stand out too much or make him a sitting duck. Something like hi-viz trousers and jacket or a bright pink ballet tutu, tights and armbands.

Our superb Oxford stag party paintball site adds to the test of testosterone, with woodland areas for camouflage and open areas for brutal ballistic attacks. You can also re-fuel once you've suitably coated the stag, with drinks and snacks available on-site.

The activity includes popular games such as Capture the Flag, Stronghold and Bunker Games, among many others. After battle has well and truly raged, your session will end with the traditional battle between the stag and the best man.

Our standard Oxford stag weekend paintball package gives each stag 100 paintballs, but we suggest pushing the boat out to include this to 400, so you can really enter into the competitive spirit of the battle without feeling like you're skimping on ammunition. So kit up, it's going to get emulsional...
Add more chaos!
You can add even more activities at this site for a full day of stag party laughs.