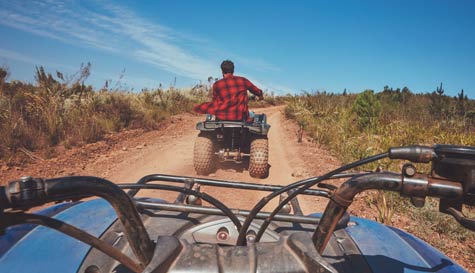 Oxford, a city renowned for its love of high culture like classical literature and music-that you certainly won't be able to hear over the quads grunting engine notes as you and the boys run roughshod all over this quad bike track. There's no high society here, just down and dirty, high energy motoring action of the most extreme quality in our quad bikes stag party in Oxford. The quads themselves might not look too fearsome at first, but as soon as you receive your full safety briefing and you've had a little bit of time on them you'll soon grow to respect your motor as it churns up virtually any terrain you choose to ride it on during this one hour quad trek and spits it back out in your fellow stags faces.

During your time on the bikes, you'll head out on a Safari wilderness. There are dips, mounds and other off-road obstacles for you to drive around - or through if it really suits you. Be warned though, stags who end up over the handlebars, face-first into a brown puddle are often the victims of horrific banter. This really is the ultimate driving experience and is certainly to separate the men from the boys among you. Our quad bikes stag party is fun which is sure to give you a good reason to get out of the city before you return for the big night ahead. We'd recommend you'd shower first though.
More speed, more action!
You can add even more activities at this site for a full day of stag party laughs.