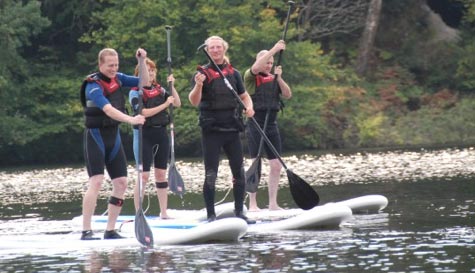 Do you and the boys fancy getting wet and wild on your big weekend, but the thought of white water rafting or kayaking just seems a little too much when you feel this rough after a big night out? Our stag party paddleboarding could be just what the doctor ordered, as you take to calmer waters to take on a unique and exhilarating challenge that the boys might not have tried before.

These boards might not look like much at first glance, but when you're stood on top of them, with only a paddle to control your movement they can become a real challenge to manoeuvre. You and the lads might find yourselves getting more competitive than you'd expect as you learn this exciting new water sport.

You'll spend your time on the water learning the proper techniques to move your craft through the water quickly and efficiently without the benefit of a powerful current to push you forwards as in other water sports. This is for your own benefit more than anything, as stags who fall into the water later on will surely be the victims of some horrific banter!

After a quick lunch, you'll take on the ultimate test of balance when you climb aboard stand up paddleboards. You'll need to distribute your weight on each side of the board if you're going to stay afloat, especially with the range of games and races you'll be getting stuck into.

Paddleboarding guarantees a great way to get out of the city on any big weekend. It's a refreshing, friendly water sport that will definitely get the boys laughing. And let's face it, who doesn't want to see the groom face plant in the water?