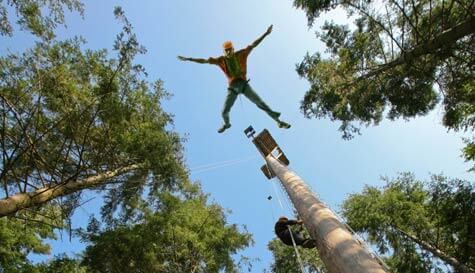 When the going gets tough, the stags get going, this really is one challenge that will separate the stags from the boys. The ultimate leap of faith, you and the boys will need to put your best foot forward in one small step for man and one thrill-seeking, adrenaline-pumping, trouser-testing leap for stag-kind.
Set in stunning mountain scenery in North Wales, this custom-built powerfan parachute simulator is the largest in the world. You'll be climbing up the height and reaching the tree-top canopy where you will get an absolutely incredible view before really testing your cajones by making the insane step off the 100ft sheer drop. Are you brave enough? Is your breakfast secure enough or will it reappear in the ultimate stag embarrassment that the rest of the guys will never forget?
Man up and step on!
Mixed with some of our other Welsh action activities this really will make for the kind of weekend you and the guys will never forget.
It's a great place to capture some footage of the blushing-bridegroom screaming like his intended as he takes the final step, giving the best man some superb footage to include in his speech or just upload on social media to cause maximum impact.
Do More, Be More
There are even more stag-sized, groom shaped challenges at this site for the guys to get stuck into. You'll get a great deal on a second activity so why not add:
Ask our team about packing more activities into your day and come and have a go if you think you're hard enough.