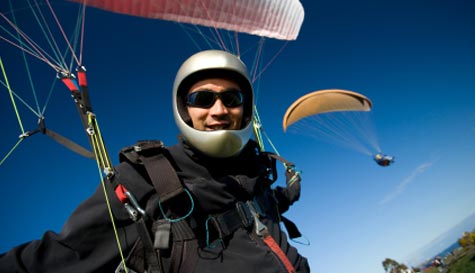 Soar through the skies like the Special Forces elite in your solo piloted glider. With these silent aerial crafts, you'll silently swoop through the air enjoying the best views possible of your scenic surroundings while feeling the unique rush of flying under your own control. There's nothing but a parachute and the air itself to keep you floating around.

With expert help from our paragliding centre's professional instructors, it won't matter that none of the stags have tried this awesome activity out before. After some tips and a couple of training sessions each, you'll all feel right at home in the air, manoeuvring your solo aircraft with ease and finesse. There are two toggles to master controlling speed and direction, so all that's left to do for the stags is keep out of each other's way and not get too carried away exploring the countryside.

See your stag stomping grounds from an aerial viewpoint and soak up the beaming sunshine with this epic combination of surreal calmness and daredevil flying action.

These amazing rigs can stay in the air for up to 3 hours before having to land, so the stags will feel like paragliding pros after their first solo flight and be waiting for their next chance to ascend into the clouds. This is one of the ultimate stag party activities for an action seeking groom and is sure to leave a grin plastered across his face.