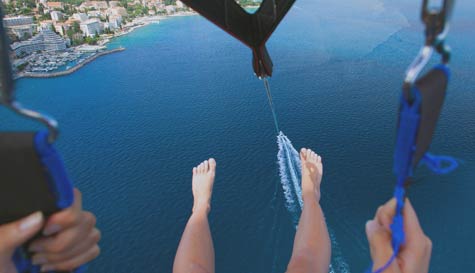 Feel the thrill of flight during a heart-pounding, spine-tingling session of parasailing with your best mates. Set sail before taking to the skies at immense speeds and hair raising heights. Exhilarating and unique in equal measure, this stag party activity is one that none of the lads will forget in a hurry. Try out something completely new and test the groom's nerves ahead of the big day: it's going to get epic!

After arriving and receiving expert guidance from our stag party parasailing facility's professional instructors, it's time to set sail in an incredible speed boat that can reach speeds of up to 70mph. With the wind in your hair and the fresh sea breeze blowing away that lingering hangover, it's time to launch into the air with up to 4 other stags joining you per flight, which means you can enjoy some banter at high altitudes.

You'll be attached to a specially designed canopy that resembles a parachute while you're towed at chin wobbling speeds. You won't want to come back to the boat once you've experienced the thrill of taking to the skies with your best mates. It's adrenaline-pumping action, so we'd suggest heading to a bar or pub once you're back on dry land to settle the nerves ahead of a huge night out on the town.

Catch the best views possible with panoramas of the coast and horizon that the stags will remember for years to come; this really is a stag activity like no other!