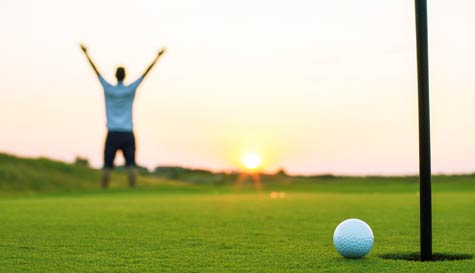 Stag parties aren't all about late nights and debauchery; sometimes it's good to just get together with your mates for some light competition and a leisurely stroll to work off those hangovers from the night before. Every stag likes a spot of golf, whether they're total novices or PGA wannabes, which is why pitch and putt is a sure-fire stag party winner.

If you're after a short 9 hole game to fill the gap between stag activities or an 18 hole gauntlet to sort the Tiger Woods from the Happy Gilmores, our stag party pitch and putt centres have you covered.

For the complete newcomers, it'll take a few swings to get going, but once you're comfortable you'll be smacking the ball onto the green with laser-guided precision so you're just a simple putt away from stag victory. Typical par is 3: one for the approach and two to putt. Expect tempers to flare when the groom misses from mere inches and the whole stag party erupts in laughter at his despair.

Our pitch and putt courses are especially ideal for stag parties with a wide range of ages and abilities: it's good, clean fun and won't require much physical fitness from any of your party. This is a stag party relaxer, so take it easy, soak up the sun and try not to get teed off when you stick the ball on the rough!