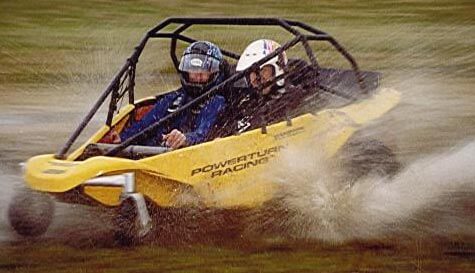 Powerturns buggies are 2 seated twin-engine vehicles and possibly the maddest stag transport ever!

They don't have a steering wheel as they're completely controlled by two levers which power the twin-engine throttles and are independent to each rear wheel making it quite a tricky driving experience! As well as rocking back onto the rear wheels these incredible machines will turn on a stamp.

If the groom-to-be or stags are petrol-heads then power turns are an absolute must and something every bloke should drive at least once in their life time and a stag do is the perfect time to get behind the wheel and let the madness begin.

Even the coolest drivers won't get it right first time, sharp acceleration will induce mad wheelies while uneven throttle will see you spinning around like a funfair ride! It's most certainly one of the most hilarious driving experiences you'll ever watch and take part in.

Once you've got the hang of these powerturn vehicles, it's perfectly possible to achieve crazy stunts like spinning around on the spot on two wheels and wheelies as you corner. They are also capable of 30mph which will only make your power to spin, slide, twist and turn even satisfying once you get he knack.

And just to make things a little more interesting you can expect mud, bumps and huge power slides over the rough and varied terrain.