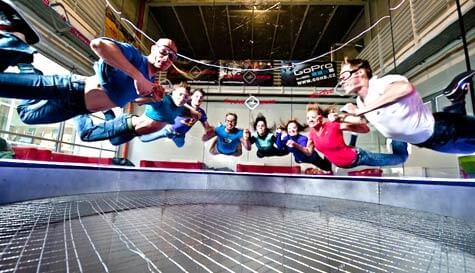 If you and the boys fancy getting some extreme freefalling action on your big Prague stag do, but you don't have the time to go sky diving for real, then we've got the perfect activity for you.

Indoor sky diving will give you and the boys all the thrill of falling out of the sky at high speeds. All without the hassle of coaxing lads who are, understandably, a little nervous about jumping out of a plane mid-flight.

When you arrive at our indoor skydiving site you'll have your standard safety briefing (even though this isn't jumping out of a plane, it's still pretty hardcore) before you get kitted up. Once you've got your jumpsuit and goggles on, you and the rest of the magnificent flying stags will head to the 14m flight chamber. Here you'll prepare yourselves for an experience unlike anything you've tried before.

Standing inside the chamber, you'll feel a rush of air hit you at 300km per hour and you'll be sent soaring into the air. This is some seriously awesome action that's sure to get all the boys involved and laughing. You're all sure to flail around helplessly at first, but soon enough you'll learn how to control your body in freefall and work the tunnel like a pro.

There's a load to do in the Czech capital, but our Prague indoor skydiving might be the most exhilarating activity around. Just make sure someone's filming the stag, the g-force will definitely result in him pulling some horrific faces. Indoor skydiving guarantees big thrills and even bigger laughs!