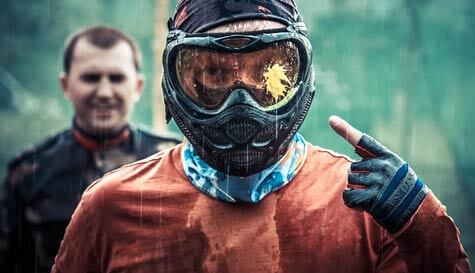 Our Prague stag party paintballing will be a sure fire success on any stag itinerary. Why? Because it's epic! Band together and charge into the fray or Lone Wolf McQuade like the Texas Ranger himself, operating behind stag lines and taking out your mates one high-velocity paintball bullet at a time. There's no better way to put the Call of Duty heroes to the test and determine once and for all who's got what it takes when the paint starts flying.

Paintballing on your Prague stag do is home to three unique combat arenas that will offer your party everything from fast-paced skirmishes to tense, tactical firefights:

Army base - kitted out with military props and styled like an army facility, this zone delivers an adrenaline-pumping blend of strategy and sharpshooting.
The village - Set up like an old town, this zone uses houses and barriers to create a style of combat that suits tacticians amongst your group.
Professional paintballing - This battle zone is made for professional paintballing, with inflatable barriers dotted about the zone and no chance of hiding under natural cover, this zone caters to non-stop paint warfare where the best shot will emerge victorious.