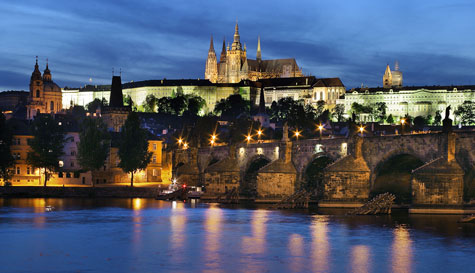 So you've taken on the challenge of a Prague stag do, right on lads! There's loads of epic stag action to get to grips without here in the Czech capital, but there's one problem, you've got no idea where anything is.

We know the prospect of doing a bit of sightseeing on your big weekend can be daunting because A) It takes away from valuable time that could be spent shooting the groom with paintball guns and B) Avoiding crowds of tourists is nigh on impossible.

On your Prague river cruise, you won't have to crawl along the streets with lesser mortals, for you are mighty stags, and like the kings you are you'll travel down the river Vltava on an epic cruise boat. Sit up on deck and sip an ice-cold beer as you take in all the gorgeous sights that Prague has to offer. 'The city of a hundred spires' really is beautiful, especially at sunset.

If you're asking yourself, 'what could be more beautiful?' Stop now, because we've got the answer. As an add on, you can transform this super cool craft into your personal party boat with the inclusion of a sexy dance show that the lads won't be forgetting any time soon.

Our Prague river cruise is the perfect way to kick off any big weekend in the Czech capital, it's a fantastic way to break the ice with lads you've not had the pleasure of meeting before and you're guaranteed top banter as you get to see the sights while enjoying entertainment worthy of stag legend!