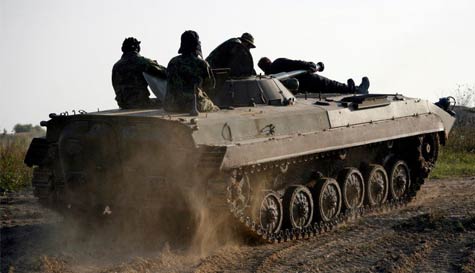 How many times have you sat in traffic and thought to yourself "I wish I had a tank right now"? While this might not put an end to your rush hour woes our Prague stag party tank driving experience will put you in the driving seat of a monstrous piece of heavy metal!

Like the Ozzy Osbourne of the driving world, this mega-motor laughs in the face of road safety, well you can when you have enough power to roll straight over or blow up anything that stands in your way. If you've ever sat in a particularly large vehicle and felt a surge of road-going invincibility, you ain't seen nothing until you've sat in the hot seat of a fully armoured tank!

Rolling thunder. Full metal stag-it. The fast and the furious. Call it what you will, this is one of the most powerful driving experiences known to stag-kind and a great tick on the checklist of vehicles all men should drive in their life:
Car - Check!
Convertible - Check!
Motorbike - Check!
Transit van - Check!
Digger/JCB - Check!
Ex-Soviet military tank/killing machine - Check!
The BVP-1 is actually a specialist infantry vehicle designed to carry troops, that means you can squeeze a few of the lads into each lap. Queue the harshest back seat driving of all time as the lad-banter hits home quicker than anti-tank missiles.

While you won't quite be equipped to start your own siege of Prague, you can be sure of a hugely memorable driving experience that petrol heads and grown-ups who really should know better will