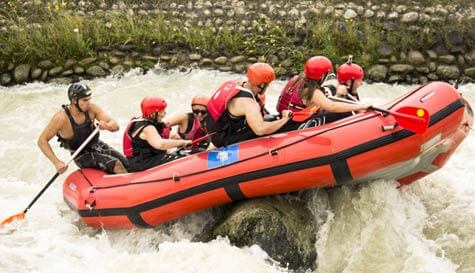 It's stag vs. white water in an adrenaline-pumping adventure that will see the lads man-up and work together as you head downstream at high speed facing some incredible water in our Prague stag weekend white water rafting experience.
This is one of Europe's premier white water rafting spots and an extremely challenging 500-metre man-made run that has played host to a number of championship events. Combining grade III-IV rapids this certainly isn't for the fainthearted and will definitely sort the stags from the boys.
Now it wouldn't be wise to leave a group of potentially hungover stags completely to their own devices so each raft will carry a maximum of six stags and one experienced instructor/pilot who will be teaching you how to get down the run in the quickest time possible. Depending on how much celebrating you did the night before might affect how much of a shock to the system the water will be, things will be easier with the help of a neoprene suit (to keep the 'little stags' dry), water boots and a helmet.
You'll be under the guidance of experienced English speaking guides throughout, we'll also arrange transport from your accommodation to the centre and back again after the session. At the session there'll be a welcome beer for each stag and some bar snacks so you can compare notes on your river runs and do a quick headcount (just to make sure none of the stags are missing, no one wants to go home facing the bride and have to explain that one!).
Our Prague white water rafting really is a fantastic experience and one of the best sites to try your hands at this epic sport as you pit your friendships and hangovers against an extreme Prague stag do adventure.