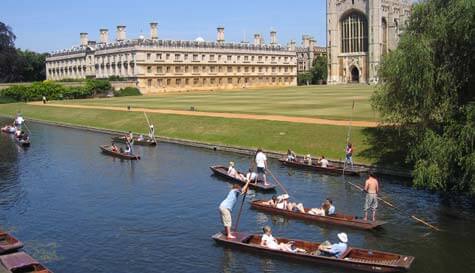 "Ah gentlemen, this is how one chillaxes during one's stag do, dontcha know." This is exactly how a worldly group of gentlemen should unwind, it's also a pretty good place to ease away any stag hangovers. Sitting back with a glass of bubbly (a fancy hair of the dog?) you can even bring along some cucumber sarnies if you're feeling really dandy? As the chauffeur punts you down the river this is the pinnacle of classy stag entertainment. So, put on your straw boater, grab your stripey blazers and 'take it to the river'.
Yes, some members of the stag party are certainly big enough to be able to do the punting themselves, but would you really entrust your perfectly dry wallets, phones and clothes to one of the blokes you saw doing the robot on the dance floor last night? No, probably not. That's why an expert will be on hand to do the hard work, so you and the guys can focus on just relaxing. And on a sunny day, there really is nowhere finer to be than on the river of one of the UK's most charming cities.
Larger groups of stags will get multiple punts which will up the banter between the guys and also mean you can get even more great photos as a group. We don't recommend trying to get the chauffeurs to race each other, you're supposed to be chilling out after all.
A punt can be a nice start to the day, a lazy, hazy afternoon distraction or even an early evening adventure before the guys tuck into some great food. If you haven't planned your stag dinner yet ask our team and we'll get everything booked in advance for you to set everyone up for a great night out.