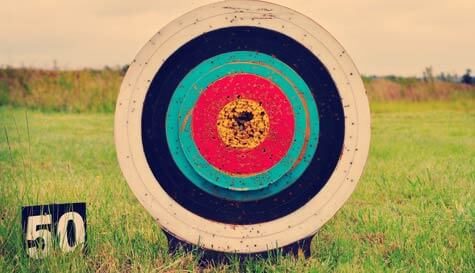 Archery is cool. It just is, that's a fact. It's not just the cool pop culture archers like
Legolas
,
Hawkeye
,
Katniss
(don't pretend your girlfriend didn't drag you to see it), and of course England's favourite hero/mugger Mr R. Hood. Englishmen have used the arrows to win the day throughout history; Sherwood Forrest, Agincourt, Lakeside.
Of course, if you do prefer going in all guns blazing, you also get the chance to have a go with some (slightly) more modern weapons, including a crossbow (we did say only slightly), and an air pistol.
Whether or not you see yourself as a Robin Hood type, archery is a skilful sport that requires a mix of balance, poise, accuracy, vision and timing. As you compete against your fellow stags to hit the bull's eye, you'll need a steady hand for ultimate precision. It's competitive, intense, and unusual - three of the things we like best on a stag do! The scores will be recorded, so you'll be able to see who's way off the mark, who's right on target, and who owes the first round of drinks.
Archery QI
A number of Kings required all Englishmen by law, to practise archery so they'd be ready for war.
Henry the VIII took things one step further though by banning football after young men started skipping archery in order to play in local matches.
Henry the VIII was also the first man to own a pair of purpose made football boots. SO how could he ban the beautiful game? Perhaps he was a Baggies fan on a bad season?
English longbows helped decide a number of important battles including Agincourt where the French outnumbered the English 4 to 1.
An arrow from an English longbow could pierce plate armour.