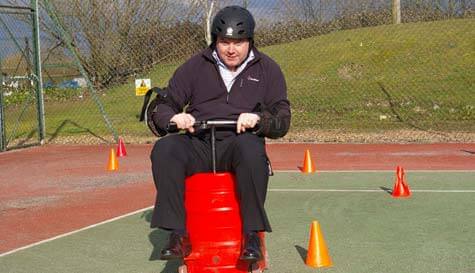 Track day, schmack day! Any idiot can race a high-powered Ferrari around a race track. But it takes a special kind of idiot to race a beer keg.
You see, cars are just so last year! With their stereos, power steering, lovely heated seats and convenient holder for your travel mug. Nah! When we hit the race track we like to feel different. It could partly be down to the fact that we feel strangely comforted whenever we're close to a beer keg, just looking at them makes us emotional. In our opinion, if you're going to race, stag party beer keg racing is the only way to do it!
But you won't be battling purely for personal glory, this is all about taking one for the team as you'll be split up to create a slightly weird F1 team (obviously you won't be allowed anywhere near an F1 car). Working in your teams this is a relay-style race, but with barrels rather than batons. To begin with, you'll have a practise race so everyone can get to grips with these mini racing beasts. Once you've managed the basics without falling off (although fingers crossed, you could get some great YouTube ready footage of the groom stacking it) you'll then line up for the race.
It's then time to get your helmets and game faces on (oh yes, safety helmets because this, friends, is serious racing) as you take stag party beer keg racing to the next level. You'll be racing around a slalom style course with each of the guys having a turn behind the wheel, so it really is all about teamwork. The fastest lines, the fastest handovers, the least obvious cheaters.
This hilarious activity works best as part of a multi-activity session. Wakeboarding, Waterskiing, Paintball are all also available, please ask our team about creating a day tailor-made for your party.