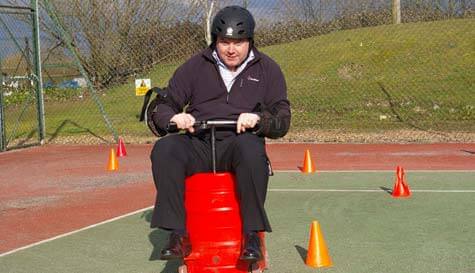 These are three brilliant challenges for stags who don't take life too seriously and are looking to add plenty of laughs to their weekend. The events are particularly effective if some of the lads are suffering the effects of the night before.

Race, out-pass, and beat your opponents into submission. Game on!

Beer Keg Racing - You'll be split into teams in a relay-style racing challenge. Each team will get a practice run first. You will then race around the slalom course or race circuit with team pit stops F1 style. Five kegs are raced on the coned course at any one time meaning extra mayhem. Please note; The kegs are no longer full of beer, please don't drink the petrol.

Human Table Football - If you've ever played fussball and wondered what it would be like to play a life-sized version now's your chance. Up to 6-a-side will be trapped onto the poles you can only move sideways. The game requires a good team understanding and plenty of fast footwork.

Sumo Wrestling - No need to bring your own giant nappies, we've got inflatable sumo suits to give you a bit of added bulk. Normal sumo rules then apply as you try and throw or barge your opponent out of the ring. Last man standing will be declared the winner.