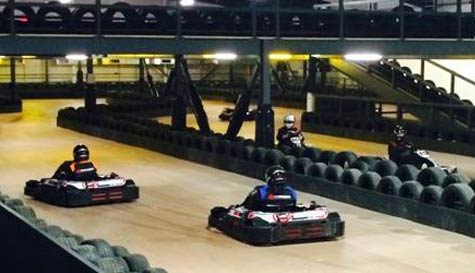 There's a reason why go karting is consistently one of our most popular stag do activities. It's fast, furious and a great way to settle that old argument of who is the best driver once and for all.

While some stags might be a bit handy at Gran Turismo, this is real racing with 200cc, 40mph karts. Our brand new Reading circuit is a total monster of a track. 450 metres, 2 multi-level tracks over 3 floors and some epic stag racing.

The session will see you and the lads taking part in a Le Mans style battle with the clock (25 minutes of guaranteed track action each) with a final, decisive lap to determine who will end the session victorious. At the end of your session, one of you will be crowned stag Stig and your group's Captain Slow can be handed pint penalties ahead of your big night out.

As leading stag party organisers we've been around a few tracks in our time and this is one of the best indoor go-karting experiences out there. The track will push your driving skills to the limit, with long straights and wide bends that allow for maximum overtaking opportunities and wheel to wheel action.