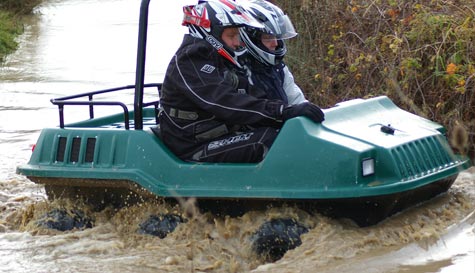 If you and the lads are looking for some unique, off-road madness on your big weekend, but don't fancy quad biking or 4x4 driving then this is definitely for you. Max Kats will give the boys the thrill of powering through terrain both on land and in the water. These mean machines are seriously badass, and you're bound to feel like a stag A-Team as you charge through this challenging course.

These vehicles might look like they belong to the Banana Splits, but when you get behind the wheel of one of these bad boys you'll definitely be surprised to find that these unusual off-roaders take to the track with all the disrespectful attitude of a small tank.

Except, unlike their military cousins, these vehicles are extremely manoeuvrable due to their skid steering. This means you'll have to use all your driving ability to throw your Mad Max six-wheeler around the track, with another stag controlling the other side!

You and the boys will show this multi-terrain course no mercy as you effortlessly tear up the track with the power of six-wheel drive. Max Kats low ground-pressure means that they can traverse swampy terrain with the greatest of ease. You've truly never driven anything quite like this.

Max Kats could prove to be the surprise highlight of the weekend. This is big laughs and even bigger thrills, and it's the perfect way to tear up the track before hitting the town for a big night of stag mayhem.