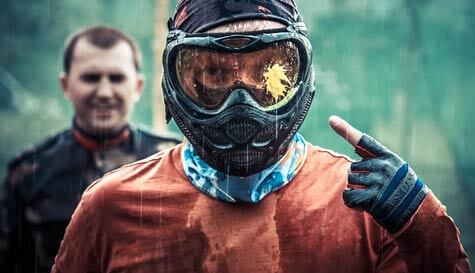 There's a very simple reason for why our paintballing activity is so popular: it's awesome. Nothing else lets you and the lads sprint around acres of dense woodlands shouting 80s action movie one-liners while shooting your mates repeatedly and pulling out all your best moves, like the Bruce Willis combat roll, the Arnold Schwarzenegger spring from cover and the Sylvester Stallone stealth takedown.

Our Reading stag party paintballing facility offers state of the art gear for your combat needs, including pinpoint accurate paintball guns that fire as fast as you can pull the trigger, full-body Special Forces black combat overalls, anti-fog protective face masks and custom-built ammo holders, so you'll feel like the real deal when you charge into the fray, gun blazing.

The Reading paintballing centre also has some of the best game scenarios around:

Castle Wallenberg - take turns attacking and defending this awesome purpose-built fort.
London Apocalypse - fight among double-decker buses and red telephone boxes in this themed zone.
Viet Cong Village - Battle for control of the wooden hut village.
The Berlin Wall - Attack the wall and claim it for your team.
Command Post - Destroy the command post by planting a bomb in its core.
Chemical Alley - Fast-paced straightforward shooting spree with only barrels for cover.