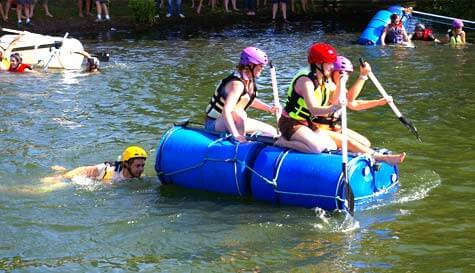 Organising a stag do without any decent group activities is likely to leave you and the lads up a somewhat unpleasant creek without a paddle. But luckily, our Reading stag party raft building will see you float your way out of trouble (or into it, depending on the raft) in no time.

It won't be as easy as tying a few wooden poles to some buoyant barrels though, you'll need real skill to design a winning raft. This is an awesome way to break the ice between stags who don't know each other so well, as they work together to create something both fast and watertight. After all, no lad wants to be left bobbing in the water while their mates paddle off into the distance.

An experienced instructor will first separate the sea of stags into teams before the raft building war commences. After a few instructions, you'll be left alone to build your Mad Max style creation. Then it's game time, race across a large stretch of water to claim the title of stag rafting champions. Try your best not to fall in, or worse, have to watch your raft fall apart before your very eyes, dragging your team down into the water as you get pulled in with them!

Reading raft building will definitely sort the stags from the boys as you race to create the most sea-worthy raft going. Bear Grylls would be proud.