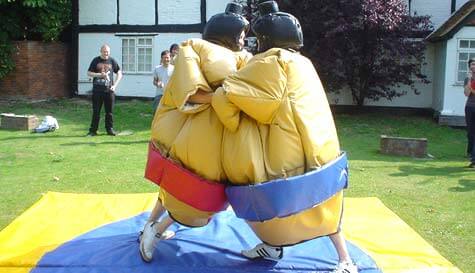 If you and your mates have got the kinds of bodies that are more suited to sumo wrestling than the Olympics then this activity is perfect for the boys. Luckily, there's no need to strip off, chuck on a revealing thong or force your hair into a traditional bun (fan of the man bun and top knot craze or not!), as these huge suits are worn over clothes and works even if you've got a bit of a Peter Crouch beanpole figure.

After the initial faceoff, which includes (if you're as mature as us) a round of pre-fight wedgies, you'll don the suits, stare down your opponent with an icy glare and at the sound of "hakkeyoi" commence your fight as an inflatable assisted wrestler. Remember to reward yourselves with extra points for wipeouts, clothing malfunctions, compromising positions and sweat. Players fight multiple opponents during the competition, with the winning team earning vital stag bragging rights.

Getting the hilarious, padded sumo wrestler suit on is your first challenge... wrestling your fellow stags out of the ring without splitting your sides or crumpling over in hysterics is the main aim. This is the perfect opportunity to prove which stag is the strongest once and for all without anyone breaking anything or have their ego bruised in the process! Whatever your group enjoys doing, you can guarantee the stags will have a fantastic afternoon and all the guys will be left in stitches!

Perfect for stags fuelled on comedy and banter, this epic activity will give you all plenty to laugh about down the pub for years to come!