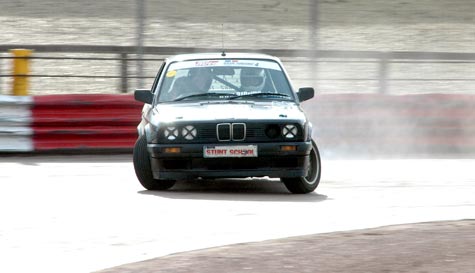 Think you're pretty good behind the wheel? These crazy and argumentative machines are a bit like that ex-girlfriend you try not to think about. Whatever you ask the car to do it will do the exact opposite (yeah, it's just like her!). It's not like a racing car, when you turn left the car will go right and vice versa. It's even worse when you're in reverse. So, the challenge isn't simply a matter of driving skill. It's much more challenging than that.
Like any test of your driving and racing skill, you need top spatial awareness. But the next kick in the tail is getting your brain to do the opposite of what it normally would. So, it can be the brightest stags rather than the best drivers who will find themselves doing best. In some ways, you almost need to turn some parts of your brain off, so the groom should be alright then.
There are a number of different tasks you'll need to achieve with an instructor on hand to keep everyone safe while the guys take it in turns. And yes, while you're driving you can be pretty sure the rest of the guys will be watching and taking the p*** out of your every turn. Because that's what friends are for.

If you don't like the thought of speed challenges like go-karting and just want to introduce something a little more light-hearted to all your mates, you've hit the jackpot with reverse steering! Everyone can have a good go and it's guaranteed to get everybody in a fantastic party mood.

You and your mates will all receive a briefing so that you can learn and understand how it works and then you'll be off! If it's not your turn to drive then watching is almost as good as you see your stags dissolve into confusion and fail to keep these nutty vehicles in control. You and the lads will have to prove maximum coordination and concentration whilst having a hilarious time in the process!