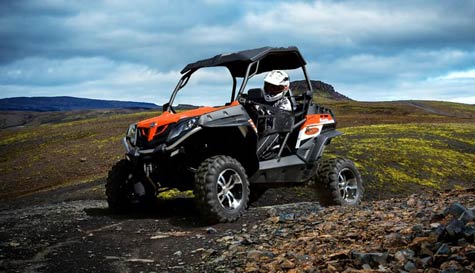 This epic stag adventure is unlike any other driving experience you'll have tried before. Taking in mountainous landscapes, you'll literally be bumping and grinding your way over some serious terrain, this is definitely not for your weekend Sunday driver types. This is hardcore 4-wheel-drive action of the highest order.

The journey kicks off just 20 minutes from downtown Reykjavik but extends out to some remote, rugged and absolutely stunning landscapes in the foothills of Esja mountain. You'll then head into more mountainous regions to the north and east of the city and can expect a sporty ride as you thrash your way round, through and over some tough obstacles (you won't be charged extra for the dust, mud, water or snow... You're welcome!).

The powerful 800cc automatic buggies and fitted with specialist tyres and will literally eat up any terrain you point them at. Automatic transmission makes them really easy to drive, simply keep them pointing in the right direction and try not to drive into anything. But to be honest that's not as easy as it sounds as this really is challenging terrain. It's two stags per buggy and you'll strap into 4-point harnesses and certified roll cages to keep you safe from each other's driving skills. Of course we have no control over back seat driving or the stag beside you screaming like a girl every time you take a sharp bend.

This is stag driving the way it should be, fast, furious, balls to the wall, last stag home buys the Brennivin.