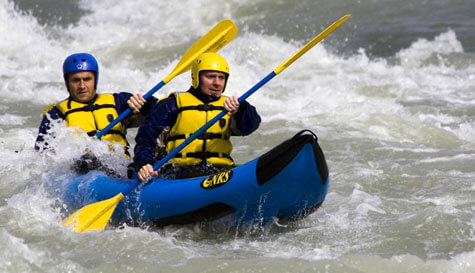 You might have enjoyed a paddle downstream in a canoe for a stag do before, but that's worlds away from the adventure in-store with a Reykjavik canoeing stag party session. Just like everything else in Reykjavik, the city takes something as theoretically simple as canoeing and ramps it up to the next level - in this case, a genteel canoeing trip becomes a ferocious white water canoeing ride, in a river formed from a glacier. It's not just a great workout, it's the ultimate hangover cure!

The site of our canoeing is called the Hvita River. Hvita means 'white', and whether the river got its name from the pale colour of the water or the tumultuous waves and rapids, you're in for a bumpy ride. You'll tackle the river in two-seater inflatable canoes, specially designed for manoeuvrability, with an expert guide following along in a raft. The 7km course includes both sections of raging rapids, as well as serener areas for you and the lads to relax and enjoy the adventure a little more, and giving you the chance to appreciate some of the frankly awe-inspiring Icelandic scenery. If you've got waterproof cameras this is the perfect chance to capture the groom or one of the other lads taking an early bath. Just make sure your camera is firmly secured, just in case you're the one that is forced to abandon ship at short notice.

If that wasn't quite enough excitement for you and the lads, the session also includes a few optional stops for cliff jumping, as well as entry into a nearby sauna afterwards.