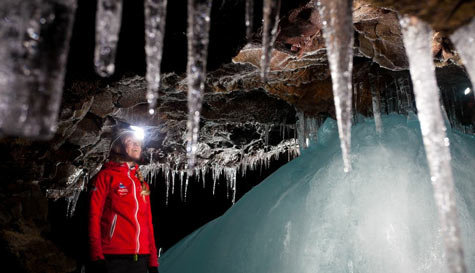 Pretty much all of Iceland is spectacular. What with the huge glittering glaciers, the scorching volcanoes, the freezing sea, there's more than enough to please the tourists and photographers...and, if you're willing to dig a little deeper, the adventurers too.

That's right; if scaling the volcanoes and glaciers and pluming the depths of the oceans isn't enough to keep an intrepid bunch of explorers like you happy, there's also Reykjavik's darker underbelly to be probed. By darker underbelly, we don't mean the seedier streets or Reykjavik's red-light district; we mean the hidden underground gems of Iceland, just waiting to be discovered by a bunch of intrepid explorers like you.

Stag party caving in Reykjavik is a challenging and demanding undertaking for you and the lads, squeezing yourselves into the labyrinth of caves located under the Blue Mountain, a mountain which has withstood volcanic activity for centuries. It's well worth squeezing yourself in though, just for the incredible Icelandic lava tubes and craters - bizarre and beautiful natural phenomenon created in volcanic eruptions, when some lava solidified but magma underneath continued to flow. In addition, there are stalagmites (the ones that grow up), stalactites (the ones that grow down), and, in winter, huge glittering icicles too.

The Blue Mountains are only a 25-minute drive away from Reykjavik which means you don't have far to travel to see the great underworld and the amazing rock formation created from the last eruption during your Reykjavik stag party caving adventure.