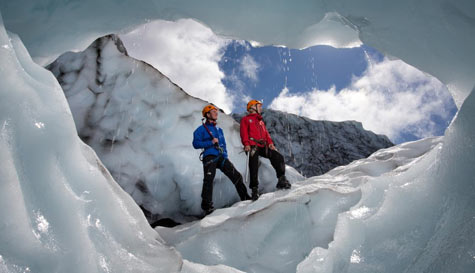 700,000 years old, 1450m high, and the site of the passage to the centre of the earth in Jules Verne's 'Journey to the Centre of the Earth', Snaefellsjokull is a fairly intimidating sight... and that's before you learn about the active volcano underneath or the glacier on top. It makes the perfect place, then, to take all the lads for a brisk stroll as part of a stag weekend then.

Alright, it's not exactly a walk in the park - you're not going to be able to use this trek to clear your head as a hangover cure, since it's a physically challenging glacier hike that's completely impossible without an expert guide on hand to prevent you and the lads being lost to the mountain forever. Still, it's more than worth putting in a little effort; this is recognised as being one of the best glacier hikes in the world, and on clear days giving you views across the North Atlantic Ocean as far as Greenland. During the hike you and the guys will get to explore the crannies and crevices of the glacier, seeing amazing ice formations, threatening sinkholes and menacing jagged ridges, getting you up close and personal with some spectacular once in a lifetime views that can't compare to anything you can see on google maps or a postcard.

It's also the perfect stag weekend activity. Fine, it may be fairly exhausting, but it's an incredible experience to go through with the lads, unlikely to be repeated ever again, and giving the stag some truly and honestly irreplaceable and unforgettable memories to take home with him. If that wasn't enough, you'll also be able to fully justify however much you want to drink later - complete this hike, and you'll deserve all the beer in Reykjavik.