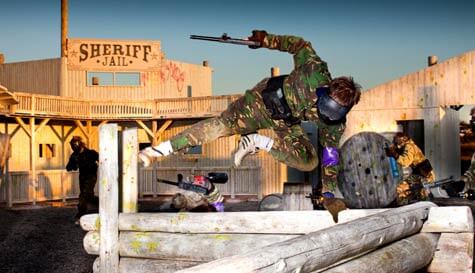 Paintball is the ultimate in stag conflict and a must for any stags who want to make sure they really give the groom the runaround. This is the perfect opportunity to make him suffer just a little, well this is his stag party after all. And our Reykjavik stag party paintball site is nothing short of epic!

To start with, we'll arrange for you to be picked up at your accommodation and taken to the field of conflict. On arrival you'll get a quick safety briefing before being armed with semi-automatic Tippmann paintball guns and given 100 paintballs each. Then you need to pick teams, obviously making sure the groom is picked last.

It's then time for the guys to transfer the skills they've picked up through many hours of Call of Duty and transfer that into paint-splattering carnage as you go all out in a series of epic paintball scenarios:
Enemy Flag
Elimination
Kill the Captain
Rob the Bank
Treasure Hunt
There are also four different battle zones:
World War II
Jungle Zone
Wild West
The Block Field
Plus you'll be fully kitted up:
Tippmann semi-automatic guns
Anti-fog masks
Protective suit
Gloves
Caps
100 paintballs each (trigger happy stags can purchase more on-site)
We'd also advise you give the groom something suitable to wear to ensure he really stands out, purely so he doesn't get hurt of course. Well, all's fair in love and stag wars.