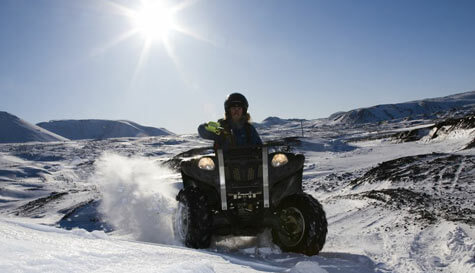 This definitely isn't 'most quad bike tracks'. This is out in the wild, full-blown, cross-country ATV action that will separate the stags from the boys in our quad bikes stag party in Reykjavik. You'll be heading out of town and off into Iceland's stunning Blue Mountains to the Hellisheidi Lava Plateau where you'll be treated to an off-road experience like no other. With 700cc between your legs, you really will feel the full power of an off-road beast designed to tackle the most volatile terrain. You'll need it, Hellisheidi is the perfect place for you and the lads to set off on the most epic quad trekking adventure of your lives.

If you're man enough, this phenomenal quad biking experience in Iceland will provide you thrills like you have never felt before. Your Super ATV will take you to places hardly ever accessed by man. High in the plateau, through patches of water and through the roughest tracks around. This is activity is a one of a kind quad biking experience that you and the lads will remember a long time after you've come back down to earth.

This is simply a must-do for any stags trying to make the most of their big weekend in Reykjavik. As well as being a great tourist experience, it's also muddy good fun and gives you plenty of chances to get the brown stuff on each other and half a laugh while you explore one of the most attractive spots in Iceland.