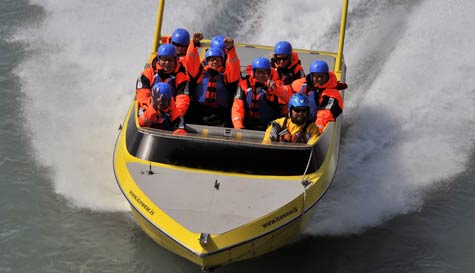 This is definitely not your average boat ride. While back home in Blighty you might have ventured onto the occasional boating lake or braved a canoe it's unlikely the lads will ever have seen anything quite like our Reykjavik stag party jet boat. In fact, it's Europe's only white water jet boat ride.
Firstly there is the stunning scenery that to be honest resembles a planet from a Star Wars movie rather than a stag party playground. After putting on all the safety kit and stopping for a stag team photo (an absolute must when you guys are making he waterproof suits and helmets look so damn good!) its then time to step aboard and strap in.
You'll start off on calm waters at the shallower part of the river, further upstream things will start to take on a different landscape as the basalt rocks and cliffs crowd in, forcing the river to become narrower and faster. It's then that the pilot will really start to ramp things up, hitting faster speeds and zipping past the rocks and canyons that in places are 5 metres from wall to wall.
And just in case that isn't enough he'll pull the fast water equivalent of a handbrake turn, spinning the boat 360 degrees and putting the stags nerves, stomachs and breakfasts to a punishing test. The g-forces are fantastic and might cause a few of the stags to wonder whether that extra pint last night was such a good idea after all.
This is definitely not for soft lads and will leave the lads absolutely buzzing and wondering just how they can talk the other half into letting them buy a powerboat as soon as they get home.