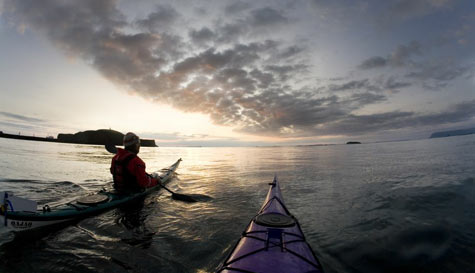 On one hand, sea kayaking is a fun, lively group activity that propels you and the lads into the middle of a relaxing oceanic adventure, enjoying the rolling Icelandic waters, and some breathtaking scenery.

You'll kayak along the serene and beautiful Hvalfjr°ur fjord, which opens at the coast, using kayaks that are stable, safe, and easy to use, with a guide there to teach you everything you need to know in order to safely kayak. Hvalfjr°ur is framed by towering mountains, that stretch up from the sea to more than 1000 metres high, and you'll paddle between them and along to the coast, enjoying magnificent views of the North Atlantic Ocean, as well as the surrounding mountains and countryside.

You'll also get to kayak to shore, getting out at the beach and spending some time relaxing and enjoying the Icelandic seaside - though in Iceland we wouldn't recommend skinny dipping... in fact, you might want to leave the budgie smugglers at home and just bring an extra jumper.

On the other hand, of course, you might want to consider that Hvalfjr°ur is Icelandic for whale-ford; a name it gained due to the large number of Sei and Fin whales there, as well as some Minke. Iceland also has a significant Greenland shark population. We're not saying you'll definitely be swallowed by a whale Jonah - or Pinocchio-style, we're just saying that it could happen if the sharks don't get you.