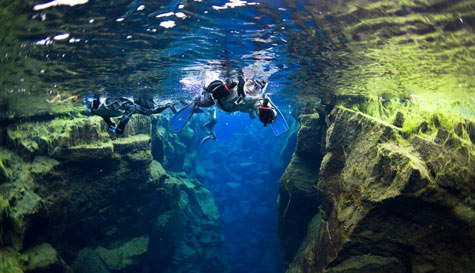 There's sightseeing, and then there's sightseeing. Don't get us wrong, you can see some truly awesome views from the right tour bus, but you aren't getting hands on with a far less photographed, but no less fascinating side of Iceland. That's exactly what our Reykjavik snorkelling experience promises, as you'll be heading into one of the world's greatest cold-water diving sites for an unforgettable underwater journey.

As one of Iceland's best kept secrets, the Silfra Tectonic Fissure is a completely unique diving and snorkelling site, offering the lads an experience that literally can't be replicated anywhere else in the world. The freshwaters here are amongst the clearest on the planet; you could even drink this stuff if you wanted to.

With water this clear, you can see almost everything when you're underneath the surface. It's about 63 metres deep at its lowest point, with intricate cave systems, ancient lava rock walls and ridiculously vibrant scenery with lava rocks, shifting sands and colourful algae.

The fissure itself is also a sight that's sure to take the boys breath away. It sits between two tectonic plates, Eurasia and North America, allowing you to literally swim between continents. That's right, you can take the boys to a spot where they can be touching America with one hand, and Europe with the other.

Our Reykjavik stag party snorkelling site is the only spot in the world where you can do this, and you can definitely make the tenuous claim that you took the lads to two different continents on one stag weekend!