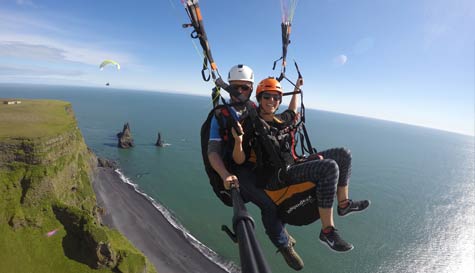 As natural stag party highs go, tandem paragliding in Reykjavik simply can't be beaten.
This is the calmest form of flight you'll ever take, no engine noise, no cabin crew, no having to take your shoes and belt off to pass through customs. Just you, a pilot and a simply stunning view as you majestically soar through the sky.

For any nervous stags, it's also worth pointing out that paragliding is one of the safest forms of free flight and you'll be in the hands of a vastly experienced team who will explain the whole procedure to all the stags prior to take off. You can also help get involved in the preparations if you want, so you can get a full understanding of this amazing sport.

You'll all undergo a quick safety briefing before the final pre-flight checks are done. Once the team are satisfied its then time to get high. The flight will take you over land, mountains, ice and water, dropping and rising on the natural air currents and thermals. It can get cold once airborne so make sure all the guys have wrapped up (it's not as if you can nip back down to get a jumper). You'll be required to help with take-off, but once aloft you can simply sit back and enjoy this once-in-a-lifetime ride.

The paragliders are soft wing structures with no internal frame, 30 lines (each individually capable of taking your body weight) connect you to the 'wings'. You'll then fly at a sedate pace, slower than the wind speed and the seats are incredibly comfortable, in fact, it feels very much like a giant flying hammock. The biggest worry is just how addictive it is, once you've taken one flight you'll want to do it again and again.