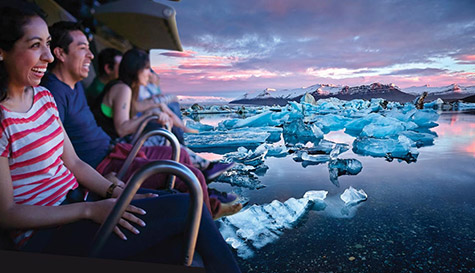 This awe-inspiring hen party Virtual Iceland Flyover in Reykjavik offers you the unique opportunity to see the best of Iceland's incredible natural wonders without having to shell out thousands of pounds on an actual helicopter tour! You and the girls will get the opportunity to experience the Land of Ice and Fire in a totally new, thrilling way. With the use of modern state-of-the-art technology, you'll be fully immersed in an incredible sensory experience as you take off on your exhilarating virtual journey across Iceland!
Using full-motion seating, a wraparound screen, wind, scents, and a beautiful musical score, you'll experience a ride like no other. You will hang suspended, feet dangling, and experience a true feeling of flight. Sit back, relax, and get ready for the 20-metre spherical screen to whisk you away, grab your imagination, and take you through a journey of time and space!
Before taking off, an Icelandic storyteller will welcome you into an ancient Viking log house and regale you with tales while a shadow play projection brings it all into life. You'll enjoy a fascinating introduction to how time, nature, and humankind (from Vikings to the modern-day) have shaped this magical island. The line between facts and fiction is blurred, as you discover ancient stories of natural forces and the people who discovered the land.
Then, it's time for the Well Experience with your guide, Su Vitra, a character based on local troll legends, lovingly designed by the illustrator Brian Pilkington. She symbolises the enchantment of the country of Iceland, a land that continues to inspire and fascinate so many people today.
The flight has three parts:
The shaping of the land - feel the power of the land as the monumental, violent forces of nature take shape.
The arrival of man - The introduction of Petta Reddast - Iceland's motto meaning: 'It will all work out OK'.
Life today - Discover how Icelandic people have made a life on this island.