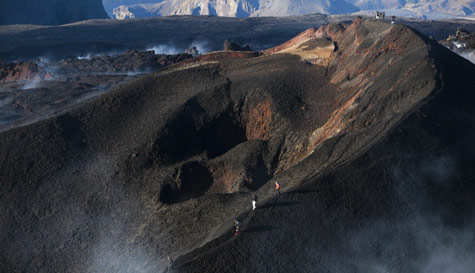 Listen - you've got one stag with a very precious ring, a best friend by his side, and a bunch of other mates along for the journey. We've got a volcano. Look, we're not saying you have to recreate the Lord of the Rings trilogy in its entirety. We're just saying you could.

If you and the lads are up for the challenge of marching forth to Mordor (or the Icelandic equivalent), then this is just the stag activity for you. It's difficult, it's tiring, it's likely to result in all of you longing for second breakfast by the end of the journey, but for the sort of once in a lifetime adventure that's likely to create irreplaceable memories and be a unique bonding experience for you and the boys, it has to be a volcano trek. After all, there are some things that just can't be topped - and volcanoes are definitely one of them.

You and the lads will strap on your hiking boots and tackle Mount Hekla, the second most active volcano in Iceland. It's erupted as recently as 2000, spewing forth enough fire and lava to melt the One Ring. To call the walk up the 1500 metre tall volcano a challenge doesn't quite cover it, but once you're there you'll be rewarded with completely unforgettable views. You'll be able to see not just the volcano, but across the Fjallabek mountains and the Vatnajokull glacier (Europe's biggest glacier), and practically all the way back to the Shire.