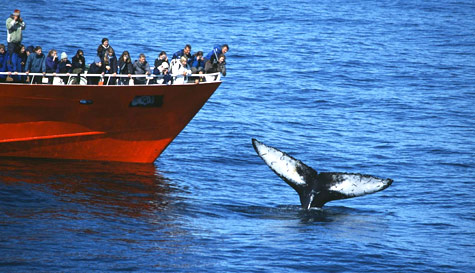 Iceland is home to a huge variety of exciting and exotic creatures. There's, uh, Icelandic sheep... and Icelandic ponies... and Bjrk... alright, if you want to see anything truly incredible, you might have to head a little further out of Reykjavik. In fact, if you head about 15km out of the city to sea, StagWeb can find you not only some of the most amazing animals in Iceland but in the whole world.

Back in the UK, the closest you're likely to get to a whale is if another one decides to swim up the Thames, or if you watch Free Willy on Netflix. In Reykjavik, however, we can help you celebrate the stag do with an adventure at sea, doing your best Captain Ahab impression and setting off for the experience of a lifetime witnessing a large variety and number of whales in their natural environment.

Iceland has a huge range of wildlife off its shores, so on a whale-watching expedition, you're likely to see minke whales (disturbingly the sort you can also eat in Reykjavik), white-beaked dolphins, harbour porpoises, and the humpback whale. If you're lucky, there are other whales to be spotted, like the Fin and Sei whales, or the killer whale.