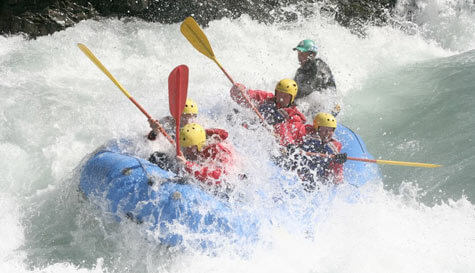 Action, adventure and high octane thrill-packed fun is synonymous with white water rafting and whether you're a group of lads who love to test your nerve or simply enjoy getting outdoors and active, this challenge will exhilarate even the most daring of your stag guests.

Experience the churning white waterfalls and pools of the stunning Reykjavik countryside and make some amazing memories - just try not to scream too much like a little girl or you might well struggle to live it down...

Allowing everyone to work together in teams, you and the boys will get to raft over the dramatic Hvita River which is formed from a massive natural glacier; take it from us, this one's not to be missed when you visit Iceland, undoubtedly one of the most picturesque countries on earth.

The river itself boasts a perfectly balanced mix of beautiful canyons which create heart-racing waves and rapids. You'll travel more than seven kilometres down river on your rafts and once the adrenaline is really pumping, all the boys will get the chance to jump straight in from a cliff and into the arctic river - not for the faint-hearted! The glacier is a massive part of Reykjavik's landscape, so make sure that you don't leave without experiencing it for yourself.