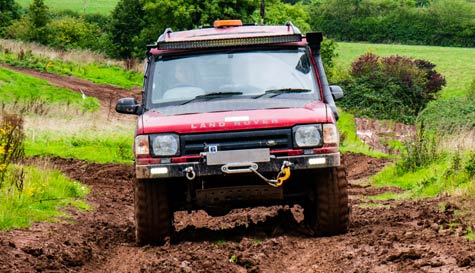 This is 4x4 driving on a whole new level...

Separating the stags from the boys, this epic 4x4 driving challenge takes place in ex-military off-road vehicles. This is a mammoth activity that will give you and your fellow stags an epic driving test. Forget 3 point turns and consideration to other road users... You need to focus on keeping your vehicle shiny side up and not parking it in a tree.

After meeting the instructor you'll be introduced to the vehicles and tackle some basic off-road tests. If you haven't already stacked it by this point, you'll then be moving on to the main course where things go downhill fast. Quite literally. As well as having to listen closely to the instructor you'll also have to face the undoubted banter from the lads who will be watching your every move as you each take it in turns to get behind the wheel.

The instructors will judge your runs before announcing who is the day's best driver. A job on the Latvian Tram system could well be yours for the taking. We would certainly advise on you finding a prize to award the winning stag and suitable pint penalties for the worst drivers. This course is often frequented by Scandinavian and German petrol heads as it is a true driving challenge.

There really is nothing like getting a swift boost in the Baltics and this fantastic course in stunning surroundings is an ideal activity for stags who like to work hard, play hard and drive harder.