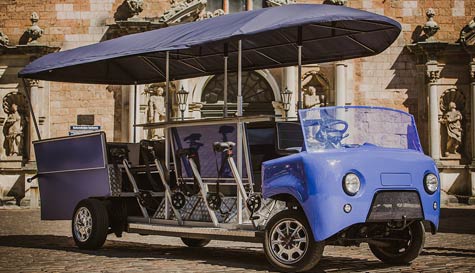 Stag do's can be hard, you don't want to abandon your gym regime, you want to find plenty of chaos with the guys, you feel like you should get out and about but then again the bars are open and it would be rude not to enjoy a drink or three during the weekend... Well, now you can combine everything in one hilarious activity that will quite literally have some of the lads in stitches.
This completely crazy and unique experience will see you take to the streets of Riga on your very own mobile pub. Seriously, every stag-do should have one. Pilsner-fuelled pedal-power is the only way to go. You'll get to do some exercise, feel fresh air on your face, all without leaving the comfort of your bar stool. What's more, you have control of the pumps so you can pour as you pedal and toast the groom as you go. As you and the guys cycle you'll have 1.5 litres of beer per person on board.
Your barman/guide/driver will stay sober so you can focus on having fun, this is the only way you should ever drink and drive.
This is the future of urban transport and it's beer-takingly beautiful. Imagine how good gridlocked, early evening traffic would feel if you were commuting with a bunch of mates on a beer bike? There'd be no need to stop off for a quick one on the way home, you could bring your own beer snacks, install a jukebox...
For your Riga ride, we suggest making sure the groom has something suitable to wear to make him stand out from the traffic.