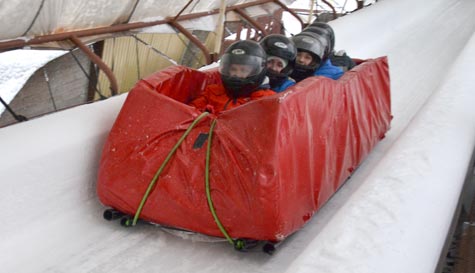 Bobsleighing is possibly the best way to scare off a hangover. It is without doubt one of the most dangerous winter sports as Olympic runners can hit speeds of up to 93 mph (the world record being 125mph!?!). While you possibly won't hit those speeds you'll still be reaching brown-trouser velocity as you hurtle down this run that was originally built for the World Championships.

Under expert guidance you'll be taught how to get the bobsleigh moving off the top of the run and how best to keep it shiny side up on the way down (which isn't as easy as you might think) but fear not, the instructors really are experts in their field and they'll soon have you running like a well-oiled albeit, slightly hungover sleighing machine.

The teams train all year round as these runs can be just as fast whether running on blades or wheels.

• October - March Winter, snow conditions
• April - Not available
• May - September The ice blades are replaced by wheels for the summer months

You'll really need to work as a team to get the most out of your runs, each of which is at such high speeds it'll be over before you've even had time to start regretting how much you had for breakfast (and inside a sleigh really isn't a good place for it to put in a reappearance!). This is high-speed stag-style madness that really isn't for the fainthearted.

IMPORTANT This is one of our fastest and more physically demanding activities that might not be suitable for every stag group.