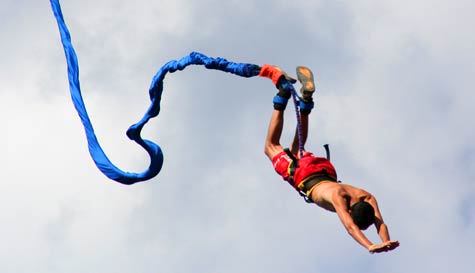 Man up for the ultimate adrenaline rush over one of the most beautiful scenes in Latvia. We offer you and your stag party the truly unique opportunity to bungee jump 43 metres... from a cable car station high over the fiver below.

Throughout Riga's picturesque Gauja national park, a cable car system runs across the river in Sigulda to reveal incredible views of the Turaida Castle, the Gauja Bridge, the Krimulda Manor House. You can also see the city's bobsled and luge tracks. Opened in 1969, the aerial cableway is the only one of its kind in the Baltic states - it takes only a few minutes to reach the top, however, the way back down can be a hell of a lot quicker.

This really is one activity that will separate the stags from the boys. It might also separate the stags from their dinner and test the strength of their Calvin Kleins to the very last fibre. But that is the joy of a really outstanding stag activity, it's a bringing the brotherhood together, that invisible badge of honour and memories you'll have for years to come.