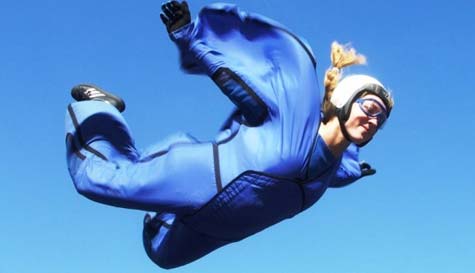 Have you ever watched a Superman movie and wondered what it might be like to fly in the air like that? Well, unless you're an alien who landed on earth as a baby and grew up as a normal person until on one fateful stag-do you discovered previously unheard of powers of flight; this is the closest you're going to get.

Our freefall simulator in Riga will offer your stag party the opportunity to jump into the first vertical air tunnel in Riga that'll give you and the lads the chance to break the rules of gravity and fly with just a little helping hand from a whopping great fan that'll blast out an air stream of about 180-200km/h to propel you into the air.

You'll be properly kitted up with goggles, gloves and a massive jumpsuit that'll catch all the air and send you off soaring skywards where you'll be able to lord over your fellow stags in air-tunnel majesty. Although you'll look hilarious from the ground, so expect the lads to be crying with laughter for the duration of your flight.

This is definitely a one of a kind experience that shouldn't be passed up that offers all the fun of skydiving without having to do anything daft... like throw yourself out of an actual aeroplane.

This is perfect for any stag party in Riga, the freefall simulator is sure to inject a healthy dose of adrenaline pumping thrills into any stag weekend. It's awesome, white-knuckle fun that the lads won't be forgetting any time soon.