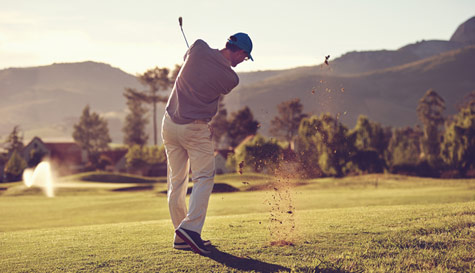 Last night was massive, but you're paying for it now. You're looking out your hotel window and you know you can't stay in your hotel room any longer with all its spinning walls and stuff. What do you do? Head 30 minutes out of the city centre and play on one of the best golf courses in Riga, that's what.

Our Riga golf challenge will see you and the lads play on the newest and most modern course in the Latvian capital. As one of the most technologically advanced courses in Northern Europe, this course boasts a rain bird watering system and maintenance created by the legendary John Deere, so you know you'll be getting a superb playing surface.

The course, owned by a big name Latvian Ice Hockey player (Ice hockey players have god-like status in Latvia) has 18 holes over a distance of 5400 metres filled with 16 ponds and 50 sand bunkers incorporated by Colorado based designer Rob Swedberg who has managed to integrate elements of his native Rocky Mountains into the course. So you and the boys will have to use all the skill you've got with a club in your hands in order to get around the fastest and prove in this unique Riga course that you are in fact the ultimate stag golfing champion.

When you're done and all the bragging rights are secured, head down to the club restaurant for some highly recommended dishes and a few pints to celebrate your epic golfing session, our golf stag party in Riga truly has something for everyone.