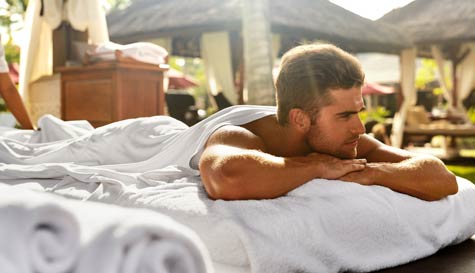 Sometimes you need to step back from the rat race, take a few breaths and chill... Our health spas allow you to do just that with a range of facilities and treatments on offer for you to de-stress ahead of the big day (or even just a big night out).

Our Riga health spa will get you back to full, fighting fitness in no time. You and the boys will be able to kick back, relax and chill out in one of Riga's best health spas. Our spa is the largest in the Baltic region and is located right in the city centre, so you won't have to crawl too far to clear your head.

"My masseur kept going on about her new range of homemade oils... but I think she was just rubbing it in."

Once you've arrived and donned your swimming trunks and those surprisingly comfortable robes, you and the lads will be treated like the stag kings you are. Choose from a variety of packages that include different types of massages and facial treatments. Remember, it's not just the girls who need to stay looking sharp lads.

This Riga health spa is particularly cutting edge as well, featuring traditional methods combined with new scientific breakthroughs in skincare. These treatments are sure to open up those pores and get you sweating those horrible toxins out in no time.

Riga is full of great activities, but you and the boys shouldn't skip on a visit to the health spa. It's the perfect chance to catch your breath on an action-packed weekend, and it's a great opportunity to chill out and have some quality banter.