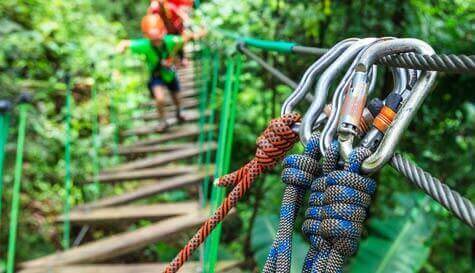 If you're after some big outdoors action on a stag do, you probably think of paintballing or go-karting straight away. But out here in Riga, there are loads of epic stag adventures that you haven't discovered yet. Our Riga stag party high ropes course is quite literally one of the biggest man-challenges in the Latvian capital.

This is white-knuckle, high-intensity fun that'll see you and the lads climbing, sliding and swinging your way through an awesome purpose-built course. High ropes aren't difficult to describe, but they're extremely hard to conquer.

This Riga high ropes course features 9 epic courses, all towering a whopping 66 feet from the ground. This will definitely separate the stags from the boys as you take on an activity that you'll still be laughing about for weeks after.

You'll learn the ropes from the instructors who show you how to hook up safely, then you're free to tackle the course at your own pace. Ideally never leaving a stag behind (it's doubly tough to explain to the bride-to-be that the groom is still stuck on a zip wire when you get back to Blighty).

The views from the top of the course are pretty awesome too, but it's the thrills you go up for. After this, you'll probably all be in for with a decent shout to be extras in the next Planet of the Apes movie as you're sent swinging through this kickass course.

Our Riga stag party is a European feast of madness and mayhem, and this high ropes activity could be the shock event of your weekend for all the right reasons.