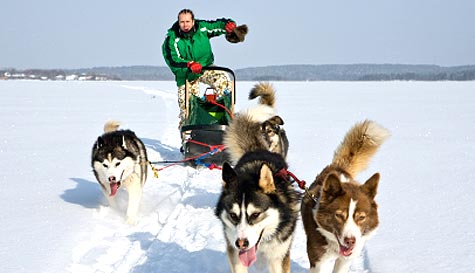 If you want to treat the groom to a genuinely one of a kind experience for his Riga stag party, husky dog sledding is the way to go. It's a unique, thrilling ride that is completely exclusive to Riga. This is truly a world class activity.

A ride with these awesome (and stunning) dogs will give you a completely new perspective on the landscape as you race through the countryside in a white-knuckle 3-5km trek.

A tour guide will be on hand at all times to pick the best routes, following purpose built tracks, so you and the boys will never be lost with your dogs looking at you like you're the four legged animals around here! It also means that you can take on stag party husky dog sledding all year round, meaning that you don't have to be in 6 inches of snow to enjoy this phenomenal trek.

These dogs are exceptional beasts. They're super responsive to the sledge's controls and power through the landscape with virtually no respect for the tricky terrain you'll be taking on. If you want a one of a kind way to take on 'Mate Daba' (Mother Nature) then this is definitely it.

Riga husky dog sledding will give the lads some big laughs and even bigger thrills as they take on a challenge that they probably thought they'd never have the chance to try. It's great fun that you'll never forget, especially if the groom goes flying from the sledge, head first into the snow...