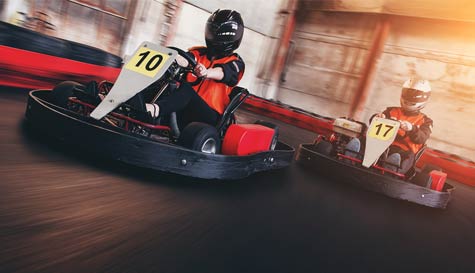 On your marks, get set, race. When the chequered flag comes down, it's every stag for himself. There are no friends on the race track, not when there's all the racing bragging rights on the line as one lucky lad has the chance to crown himself stag karting champion. After all, you've spent years mouthing off at your mates for 'driving like an old lady', now, miles from the safety of English roads, it's time to back up all the trash talk with our go karts stag party in Riga.

The tracks around here give you more freedom than back home, with 14 lads hungry for victory racing at once on this huge 1200m track. These karts might not look too fearsome at first, but once you're on the straights with the accelerator to the floor, feeling all the power of these 270 horsepower track toys these bad boys can go at the butt-clenching speed of 65km/h - that's nearly as fast as you can drive your own car on the motorway.

It'll take all your racing skill to dominate this track, there'll be blistering straights, tricky turns and demonic bends for you to throw yourselves around. This go karts stag party in Riga is the real racing deal and it's a great way to fuel your stag weekend with some adrenaline-packed fun before heading back into town for the big night ahead. Plus there's the added bonus of overtaking your mates, leaving them eating your dust as you roar into first place...