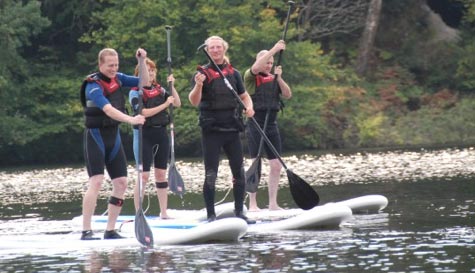 Want something new, challenging and hilarious for the big weekend? Riga stag paddleboarding is definitely it!
A funky hybrid of kayaking and surfing, Stand Up Paddleboarding (SUP) is one of the fastest-growing watersports and the perfect test of man vs nature vs hangover.
You'll be picked up from your accommodation by an English speaking guide and taken to the stunning lake, hear you'll meet the friendly instructors. Time to breath in and squeeze into those wetsuits, once all the guys are looking slick get everyone together for that all-important team photo. You'll then be taught the basics on the beach. Once everyone is ready it's time to hit the water (for some of you that will be quite literally).
It'll then be a race to see which of the guys will fall off first and who will be the first to master it. Once you've all got the hang of things (there will be plenty of face plants and guys taking the 'stag' out of each other) you'll then have a few games and even races.
Our Riga stag do paddleboarding session is the perfect way to beat those hangovers and share some real stag banter while trying a totally new challenge. Best of all, with transport, wetsuits, paddle hire and every other detail is taken care of you can relax and enjoy the day with the rest of the stags.