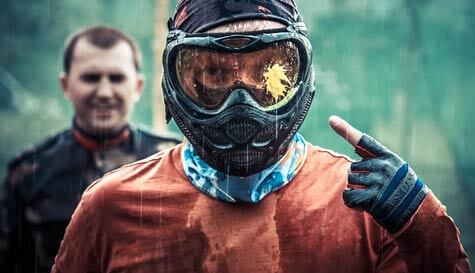 There aren't many activities that are as bankable for stag party success as our Riga stag party paintballing. It's a truly epic course spread across 11 hectares of prime paintballing terrain that'll have every stag shouting 80s action movie one liners from the first paintball up until the last. It's one of those rare scenarios where it's totally fine for a load of grown men to run around shooting each other, settling old scores with colourful displays of marksmanship and athleticism.

The strategists will look on in horror as their brilliantly hatched plans get fumbled away by their hungover comrades who try instead to go full-blown Arnie on the opposition by marching through no man's land, shrugging off high-velocity paintball bullets like they were snowflakes.

Our Riga stag party paintballing marshals will also help you with kitting out the groom in a special costume that will make him clearly visible for all to shoot: think neon Y-fronts or an animal onesie. Don't use all your paintballs in a hurry as there's always a final round of 'shoot the stag' to play, which will let you all give the groom something to remember you by.